The first time I saw Borderlands was a month or so after I had moved to San Francisco in 2004. I remember walking down Valencia Street and ogling all the stores I could not yet afford to shop in (moving to an expensive city with no job straight out of college will do that to a girl). I was probably with one of the gals I had moved out with, who couldn't comprehend my excitement at finding a store completely devoted to science fiction and fantasy.
It was perfect. It was as though it had sprung fully-formed from within the deepest reaches of my nerdy brain. Rows and rows of books. All my favorite authors, and many more that I didn't even know I loved yet. Dark wood. That delicious book smell. A small, completely hairless cat named Ripley.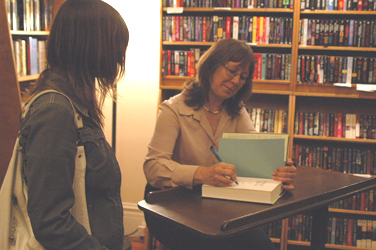 Here I am nervously getting my book signed by Robin Hobb at Borderlands
Throughout the years I came as much as I could, though I never became the regular I wanted to be. I wanted it to be my Cheers. That place I could go where everyone would know my name and ask me how I liked the most recent Tad Williams or Robin Hobb. In fact, I met Robin there during a book signing, and it was the most nervous I had ever been speaking with another human being in memory. She was wonderful, of course.
But I didn't go enough. Even now, after S&L has been meeting there monthly for our book club, and even after I've been back many, countless times for signings or just to browse the latest releases, I don't know if they'd even know me or know how much that store has meant.
Borderlands is closing. This physical lynchpin of my obsession for SFF is going away, and I don't know if we can save it. San Francisco is expensive enough as it is, but a recent minimum wage increase (which I voted for…) is their real undoing. Not to mention the on-going stress of being a small, niche bookstore in a town obsessed with the digital. There's going to be a meeting next month at the store to discuss options, and I definitely plan on being there.
Mostly, I just needed to write this to vent. I'm sad, and I'm angry, and I regret not doing more. Alan and Jude have worked so hard to keep this beautiful store open for so many years, and so many wonderful authors have come through its doors.
Thank you, Borderlands, for being that place for us. But we're not ready to say goodbye just yet!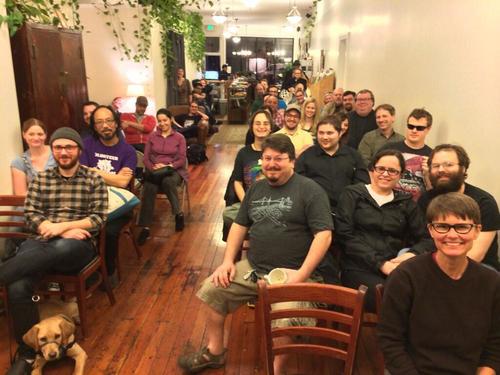 Sword & Laser meet-up and anthology reading January 2014