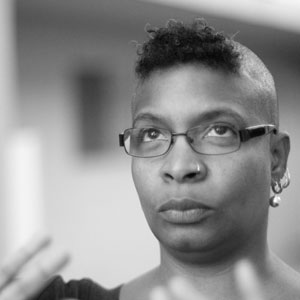 Recently we were introduced to author Nalo Hopkinson, who was kind enough to answer some questions for us here on the blog. Two of her books, The Salt Roads and short story collection Skin Folk, are being published as e-books for the first time through Open Road Media. Editor Betsy Mitchell tells us, "I had the pleasure of introducing Nalo's wondrously imaginative work to the world when her Brown Girl in the Ring won the Warner Aspect First Novel Contest. It's a delight to be able to bring out the first-ever ebook editions of The Salt Roads and Skin Folk."
Thanks for taking the time to do this interview, Nalo! When did you start writing?
NH: You're most welcome. Thanks for asking me. I believe I began writing in my mid-30s. But I'd been an avid reader since I was three years old. Author Samuel R. Delany has said that one learns more about how to write by reading a lot and internalizing models for good writing. I agree. I always have a book or seven on the go. I also watch a lot of fantasy and science fiction media, and read comics, graphic novels, and literary criticism in science fiction and fantasy.
Was fantasy always a genre you were interested in writing in? Who were some early favorites for you?
NH: Yes, fantasy and science fiction about equally. Early favourites (I'm Jamaican-Canadian; I use British spelling conventions) include Samuel R. Delany, Ursula K. Le Guin, Theodore Sturgeon, Terri Windling, Emma Bull.
Tell us about your book, The Salt Roads! What are some of the themes you explore? How would you classify the novel?
NH: In some ways, it's a time travel novel. It's written in four voices in three different times and locations and one timeless place. In some ways, it's the coming-of-age story of an Afro-Caribbean goddess. An exploration of the challenges faced by mixed race Black women throughout history. An honouring of women and men who do sex work, whether by choice or through lack of it. A thank you to the queers and transfolk of colour who fought for freedom during Stonewall. A praise song to Black people's survival despite, oh, everything.
It's really refreshing to hear about something outside the box of typical fantasy. Do you feel like genre fiction is beginning to move away from the Eurocentric, male point of view?
NH: I don't. And it needn't. I lurves me some Neil Gaiman, some China Mieville, some Ian Macdonald. Orson Scott Card should by all means keep writing fiction about smart, misunderstood white boys. He writes them well. (Though I fervently wish he would stop writing irrational and inaccurate hate screeds against queer folk. It's both bad science and a poor way to profess love for one's neighbour.) I don't want fewer white, male voices in the genre. I do want more centrisms, greater inclusion, a larger world view. Fantasy and science fiction are full of good stories. I want more.
Another book of yours coming out on ebook via Open Road is Skin Folk. What are some of your personal favorite short stories from this collection?
NH: You know how many parents don't like to tell you which is their favourite amongst their children? That's how I feel about my stories.
Hah, fair enough! What are you working on these days?
NH: Working on a new novel that my agent is currently shopping around. Collaborating on a short story with Nisi Shawl. If all goes well, it'll appear in a tribute anthology for Samuel R. Delany. Making Black mermaids, boudoir and fantasy dolls in various media: stuffed and painted fabric; plaster; and fabric design. Trying to perfect my skills at macaron-making and baking gluten-free bread. Teaching Creative Writing at the University of California Riverside, which has perhaps the most lovable student body in the world.
Where can people follow you online?
NH: I'm most frequently on Twitter, where my handle is nalo_hopkinson. My website is nalohopkinson.com.