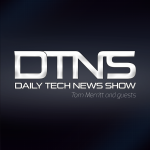 Patrick Beja joins to explore the brewing war between Google and Uber. Is it Apple and Google all over again?
Using a Screen Reader? click here
Multiple versions (ogg, video etc.) from Archive.org.
Please SUBSCRIBE HERE.
A special thanks to all our Patreon supporters–without you, none of this would be possible.
If you enjoy the show, please consider supporting the show here at the low, low cost of a nickel a day on Patreon. Thank you!
Big thanks to Dan Lueders for the headlines music and Martin Bell for the opening theme!
Big thanks to Mustafa A. from thepolarcat.com for the logo!
Thanks to our mods, Kylde, TomGehrke, sebgonz and scottierowland on the subreddit
Show Notes
Today's guest: Patrick Beja, DTNS contributor and independent podcaster at Frenchspin.com
Headlines
Ars Technica collects various reports that broke yesterday evening about Uber and Google fighting over self-driving cars. Bloomberg's sources say Google chief legal officer David Drummond, who is on Uber's board, showed screenshots to Uber of a Google ridesharing app. WSJ says that's just an internal test app for Google employees. Meanwhile TechCrunch reports Uber is teaming up with Carnegie Mellon University researchers to build the "Uber Advanced Technologies Center" in Pittsburgh to research its own self-driving cars.
Ars Technica reports on Eero unveiling their mesh networking routers that promise easy setup, constant security updates and easy coverage of large homes. The routers are not extenders or repeaters, but create a mesh network. Each Eero router has a pair of dual-band 2.4GHz and 5GHz radios.  The boxes run a custom firmware stack built on DD-WRT. A cloud-based app allows for users to easily add new routers but also send links in text messages to friends for easy connection to the WiFi network.  Eero is available for preorder today at $125 for one unit or $299 for three. That's 40% off the eventual retail price when the unit arrives this summer.
Samsung sent out invites to Galaxy Unpacked 2015 on March 1 in Barcelona, during Mobile World Congress. TechCrunch's picture of the invite shows the side view of a bent metallic device, possibly a fork or maybe a Galaxy S6 with a curved body. We can't be sure. GigaOm notes that korea's DDaily suggests Samsung may partner up with LoopPay for automatic payments used in conjunction with a fingerprint sensor.
The Next Web reports that Twitter will begin syndicating promoted tweets outside of Twitter.  The company will bring its promoted tweets to Flipboard and Yahoo Japan with the same design as regular tweets.  In 2014, Twitter had 185 billion tweet impressions off its own site.
TechCrunch passes along a report from Avast on Android malware that displays ads disguised as warning messages when user unlock their device. The malware is estimated to have been downloaded int he millions. Avast has analyzed three apps, Durak card game, an IQ Test and a history app that were infected. The malware waits for several days and at least one reboot before activating.
Engadget reports on Razer's new Blade gaming laptop for 2015.
The new Blade has a 14-inch 3200 x 1800 touch display, GeForce 970M GPU, 16GB of RAM and a max of 512 GB of solid state storage. Starting price is $2,199 although you can opt for 1080p screen for $200 less.
PC Mag looks at the 2016 roadmap for ARM processor designs unveiled Tuesday. The 64-bit Cortex-A72 which successds the A15 and A57 as the BIG in ARMS Big.little scheme– includes the new CoreLink CCI-500 interconnect and upgraded graphics processing headlined by the Mali-T880 GPU. ARM chief marketing officer Ian Drew expects the next generation of chips to get about 3.5 times the performance of what you get today as well as advanced native voice support, render pictures into 3D print jobs, improved VR and better linkage to Internet of Things device. It will use 75% less energy than the A15. Mobile chip makers that have already licensed the Cortex-A72 include HiSilicon, MediaTek, and Rockchip. More technical info coming in April.
CNET reports the China Internet Network Information Center says the country added 31 million Internet users for a total of 649 million.  Mobile Internet users rose 57 million to 557 million.  That's good news for Lenovo's Motorola brand. The company reported sales up 118 percent in the last quarter. And that's without China which Motorola is now returning to.  Motorola announced Monday on Weibo that it had seen 1 million reservations for the Moto X in China. Lenovo is also expected to announce a new smartphone brand in 2015 for China that will be sold directly to consumers online.
Console game maker OUYA confirmed this morning that Alibaba is getting the OIYA game library on its YunOS platform. YunOS is Alibaba's version of Android in China. For the moment, OUYA's game service will be limited to Alibaba's Tmall set-top box, and will not appear in phones. OUYA did not say anything about the yesterday's Wall Street Journal report that Alibaba is investing $10 million into OUYA.
News From You: 
Kaeltian, tm204, and starfuryzeta all wanted us to know about reports that retail electronics store RadioShack is in talks to sell up to half of its 4,000 stores and close the rest as part of an expected plan to file for bankruptcy. Bloomberg's sources say Sprint, Brookstone and Amazon are all interested in the chain. Sources say Sprint might co-brand stores and keep the Radio Shack name alive.The New York Stock Exchange said Monday it would suspend trading of the stock immediately.
And finally, philo1927 sent us the GigaOm post that the Wall Street Journal has sources with knowledge about Tom Wheeler's plans for February 5th.
According to the Journal, Wheeler plans to call for Title II reclassification of Internet in the US.
Under this reclassification, could prohibit ISPS from blocking, slowing down or speeding up specific websites in exchange for payment.
The reclassification would apply to mobile broadband, and would place peering arrangements under Title II.
Discussion Section Links:  Uber Google and Eero
http://arstechnica.com/cars/2015/02/uber-and-google-reportedly-go-to-war-over-self-driving-taxis/
http://www.bloomberg.com/news/articles/2015-02-02/exclusive-google-and-uber-are-going-to-war-over-taxis?hootPostID=86b6175a61f6b983b08a1c1055694458
http://techcrunch.com/2015/02/02/uber-opening-robotics-research-facility-in-pittsburgh-to-build-self-driving-cars/
http://blog.uber.com/carnegie-mellon
http://blogs.wsj.com/digits/2015/02/02/uber-chases-google-in-self-driving-cars/
http://arstechnica.com/gadgets/2015/02/eero-takes-a-crack-at-pushing-mesh-wi-fi-through-your-whole-house/
Pick of the Day: Tubes via Rusty in Virginia
Hey Tom,
I recommend Andrew Blum's book "Tubes: A Journey to the Center of the Internet." His tour-guide approach to explaining the Internet's infrastructure and is unique and fascinating. It's much better than any of my CS textbooks. I'm reminded of this book whenever you explain peering and interconnects on DTNS or Cord Killers.
I think this pick is especially timely given the ongoing debate about net neutrality and the FCC's upcoming vote at the end of February.
http://andrewblum.net/
cheers,
Rusty in Virginia
Also, Patrick likes this! https://www.youtube.com/user/crashcourse
Tomorrow's guest:  Allison Sheridan