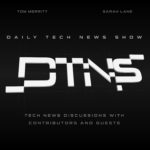 AI researchers signed a protest at a partnership between Korea Advanced Institute of Science and Technology and arms maker Hanwha systems while Google employees signed an open letter to company CEO Sundar Pichai to stop cooperation with the DoD on work to integrate AI into combat operations. Plus Apple has told TechCrunch that an updated Mac Pro will ship in 2019 instead of the previously rumored 2018.
Starring Tom Merritt, Sarah Lane, Roger Chang and Justin Robert Young.
Using a Screen Reader? Click here
Multiple versions (ogg, video etc.) from Archive.org.
Please SUBSCRIBE HERE.
Subscribe through Apple Podcasts.
Follow us on Soundcloud.
A special thanks to all our supporters–without you, none of this would be possible.
If you are willing to support the show or give as little as 5 cents a day on Patreon. Thank you!
Big thanks to Dan Lueders for the headlines music and Martin Bell for the opening theme!
Big thanks to Mustafa A. from thepolarcat.com for the logo!
Thanks to Anthony Lemos of Ritual Misery for the expanded show notes!
Thanks to our mods, Kylde, Jack_Shid, KAPT_Kipper, and scottierowland on the subreddit
Show Notes
To read the show notes in a separate page click here!

Quick Hits
More Top Stories
Message of the Day

John – Platforms as a Public Service

Today's Contributor