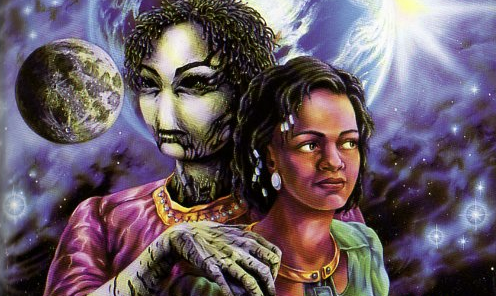 There's so much you can do with us this week, including bringing Neil Gaiman to the stage, discovering 20th century high fantasy, and saving humanity. And how we can save humanity makes Tom blush. Plus, we wrap up this month's pick, Dawn by Octavia Butler!
WHAT ARE WE DRINKING?
Tom: Original Sorghum Malt Beer – Bard's Tale Beer Company, LLC
Veronica: Racer5
QUICK BURNS

"After extensive research, the Jane Austen Centre in Bath has determined what Jane really looked like and it's Mary Robinette Kowal – successful Rothuss impersonator, puppeteer, and regency author"

A TV series based on The Elfstones Of Shannara has been greenlit.

Daniel Abraham has an update on The Expanse TV show, including first casting news and the creative team behind the television adaptation.

There is currently a kickstarter campaign for a theatrical adaptation of 5 of Neil Gaiman's short stories, a bunch of the backer rewards are various books and things signed by Neil Gaiman and he's in the video so check it out if you're a fan.

World Fantasy Award nominees were announced, as were two Lifetime Achievement Award winners.
PICKS
Killian: Finished The City and the City by China Miéville earlier today and was absolutely blown away by it. Here's my review: I think I'll read a Feist book next for some light, mindless fun.

Rabindranauth – Finished Royal Assassin earlier, dived headlong into Assassin's Quest immediately. I will forever kick myself for not reading these incredibly brutal books before now.
Here's my review.

COMING SOON
July 29
Republic of Thieves by Scott Lynch is out in paperback
July 31
Equoid: A laundry Novella by Charles Stross
August 6
The Widow's House (The Dagger and the Coin) by Daniel Abraham
Rise of the King: Companion Codex, II (Companions Codex) by R. A. Salvatore
The Magician's Land: A Novel by Lev Grossman"

Find more upcoming releases at swordandlaser.com/calendar

BARE YOUR SWORD

A Suggestion for New Topics on Club Picks
Are there any "high fantasy" books that take place in the 20th century?
Local Group Meetups
Amazon Unlimited

BOOK OF THE MONTH DISCUSSION

Wrap-up Dawn by Octavia Butler
What did you think? (full spoilers)
What Makes Us Human?
Ending issues (here be spoilers)
Next Month's Book: The Name of the Wind by Patrick Rothfuss is our August book