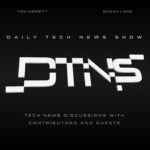 With Apple revamping the iOS development cycle to focus more on quality control and reliability issues we examine the differences between Apple's and Google's approach to OS development. Plus the number of younger Facebook appears to be dropping and Uber is making six-hour breaks mandatory for drivers who've driven 12 hours straight.
Starring Tom Merritt, Sarah Lane, Roger Chang and Veronica Belmont.
Using a Screen Reader? Click here
Multiple versions (ogg, video etc.) from Archive.org.
Please SUBSCRIBE HERE.
Follow us on Soundcloud.
A special thanks to all our supporters–without you, none of this would be possible.
If you are willing to support the show or give as little as 5 cents a day on Patreon. Thank you!
Big thanks to Dan Lueders for the headlines music and Martin Bell for the opening theme!
Big thanks to Mustafa A. from thepolarcat.com for the logo!
Thanks to Anthony Lemos of Ritual Misery for the expanded show notes!
Thanks to our mods, Kylde, Jack_Shid, KAPT_Kipper, and scottierowland on the subreddit
Show Notes
To read the show notes in a separate page click here!

Quick Hits
More Top Stories
Discussion Story: (15:45) Mobile OS Development
Thing of the Day:
Message of the Day

(25:15) Jeff – AMOLED burn-in

Today's Contributor